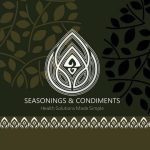 Seasonings and Condiments
Spice up your life with our premium spice selection
Description
We offer a wide range of high-quality spices to elevate your cooking to the next level. Our spices are carefully sourced from the best farms around the world, and we offer a variety of flavors to suit any taste. Whether you're looking for a spicy kick or a more subtle flavor, we have something for everyone. We also offer bulk options for restaurants and catering companies, so you can always have the perfect spice on hand. Thank you for considering us for all of your spice needs.
Video
Your Network is Your Net Worth
Someone you meet could be your potential customer or they know someone who could be, only if they knew what you do. Tell the world who you are and what you do.
© 2022 CADigital City - A Startup helping startups start up...